ScrapLife Welcomes New President and Partner, Todd Levine, to Usher in New Period of Growth
Posted by SCRAPLIFE II LLC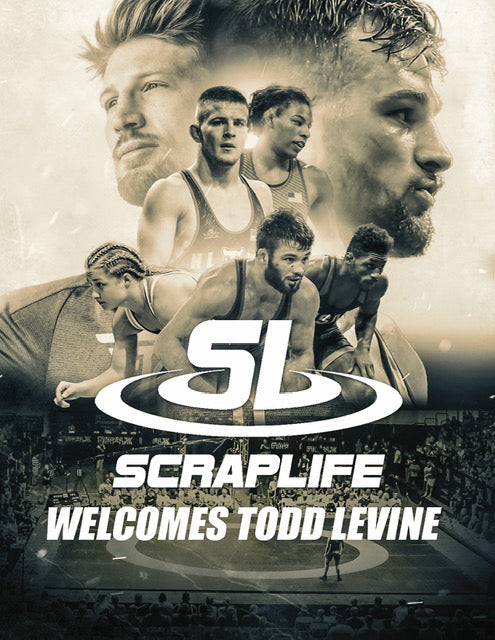 ScrapLife, the performance shoe, apparel and accessories company committed to the elite sport of wrestling and its athletes, continues to make moves off the mat by bringing in Todd Levine as President and partner. Not only is Todd tapping into his experience as a D1 collegiate wrestler, but he also brings with him over 25 years of experience in the Sporting Goods industry. His stewardship and dedicated never-quit approach led Alleson Athletic to a 4x increase in sales before a successful sale to private equity. In addition, he has spent years refining his skills by developing and cultivating partnerships with the leading brands across the industry, including Under Armour, New Balance, Reebok, Warrior and Brine Lacrosse, plus the NBA and NFL.
ScrapLife President, Partner - Todd Levine , "I am beyond excited to join the ScrapLife Team and work to both grow the sport of wrestling and make us the leading brand in the market. Wrestling taught me great discipline, dedication and how to be a great teammate – I look forward to bringing that work ethic and energy to ScrapLife, sharing that message with others surrounding the sport.
ScrapLife is the authentic wrestlers' brand and our mission is to see participants at all ages and both boys and girls reach their potential on and off the mat. We will supply the product that has been designed, built and tested by, and for all levels of wrestlers."
ScrapLife Founder, Partner - Jeff Rappaport "I have known and worked closely with Todd Levine for over a decade. He is a friend, mentor, and exemplary role model as to how one can be successful in business and never compromise their core values, principles, honesty and overall integrity. When combining the above values, with his exceptional business acumen, tireless work ethic and competitive spirit, it is truly an honor and a privilege to have Todd as a Partner and President of ScrapLife."
This is a defining moment for the brand and the company, as we look ahead to a deeper commitment to the sport of wrestling and its athletes, while becoming the leading apparel and best in class gear provider to those that work the hardest. Todd will usher in this new era of growth and discipline so we may continue to grow and serve the wrestling community.
ScrapLife Squad Member, 2018 World Champion - David Taylor "I am thrilled to welcome Todd Levine as our new partner and President of ScrapLife. I am excited to work alongside Todd in molding ScrapLife into wrestling's leading authentic brand! Under the leadership of Todd, Scraplife will have tremendous opportunities available. I am looking forward to growing with this company on and off the mat."
ScrapLife is the authentic wrestling brand made for those who live the essence of the sport on and off the mat. We design the best apparel, footwear accessories to empower athletes who are dedicated to outworking and outperforming all competitors. That's accomplished by partnering with the hardest working athletes who put their sweat into every step along the way, from the starting whistle to the final second on the mat.
The ScrapLife Squad includes an elite Team of world class wrestlers including; David Taylor, Bo Nickal, Jason Nolf, Thomas Gilman, Nahshon Garrett, Jacarra Winchester and Macey Kilty.
For more information, press inquiries or questions, please contact Jeff Rappaport ( jeff@scraplife.com , 201-960-7000) or visit our site: https://www.scraplife.com/
Collection 2019
Sale 70% Off
Title for image